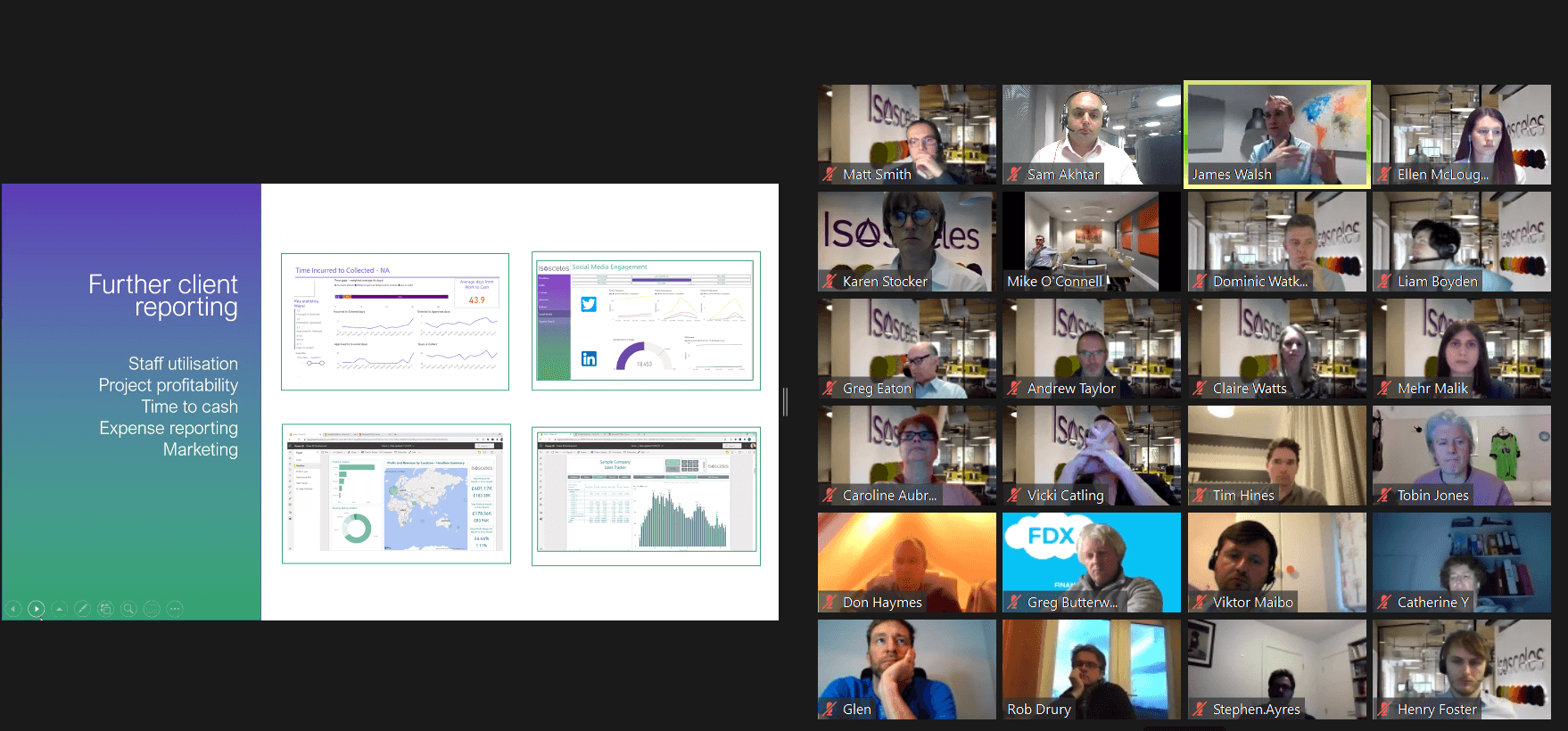 Following the recent success of its series of virtual events, Isosceles Finance hosted its third iFD Community event on 25 March 2021 – The Tech-enabled FD.
Attracting over 30 tech-enabled finance directors with impressive experience across a wide range of industries and sectors, the event marked Isosceles' latest push to promote its new technology offering, ireport, and add to its already-expanding team of friends, associates, and employees.  
---
Isosceles Finance CEO Mike O'Connelll says:
"Following the success of our third iFD Community event hosted on Zoom last week (25
 March 2021), we hope to continue to grow the attendees for our next virtual event in May."
Acknowledging the tech-focused content at last week's virtual event, Mike adds: "With over 30 experienced finance directors in attendance at Thursday's event, I am proud of our talented people for creating such an insightful and inclusive event. I am also excited by the positive response of the FDs to our new technology offering, ireport, these are highly experienced professionals and to impress them as we did is some achievement". 
 "Many members of our team participated in the event," Mike adds, "but I would like to publicly thank our breakout room hosts and Isosceles Head of Technology James Walsh for presenting a comprehensive demonstration of our Microsoft Power BI capabilities". 
 "Following the success of our recent virtual events, I am confident that we will continue to showcase our accounting, finance, HR and technology expertise in the fractional FD market." 
 "Since our inception, we have provided part-time FD services as a core component of our outsourced accounting solution to a range of entrepreneurial businesses. Our significant contribution to their growth has generated many notable success stories." 
Come and join the iFD Community 
The iFD Community is a network of highly effective portfolio FDs and CFOs that support a rapidly growing portfolio of entrepreneurial clients. 
Joining the iFD Community offers the opportunity: 
To network with other industry professionals.

 

Share experiences with like-minded portfolio FDs.

 

Access the knowledge and skills of experienced and effective accounting and finance professionals at all levels within the finance function.

 

Gain exposure to other industry sectors, new financial challenges, and new client opportunities.

 
Finance directors do not have to join our community as an iFD employee or an iFD associate, iFD friends are welcome too
iFD also provides its FD community with updates and training to enhance knowledge and contribute to the wider team's professional development. 
Related | Learn more about our FDs 
Last week's event was much more than just ANOTHER networking opportunity 
We are actively looking to recruit portfolio finance directors to join our team of associates. 
Last week's event was a unique opportunity to learn more about iFD, Isosceles Finance, and its new technology offering, ireport, and how we utilise Microsoft Power BI internally and with our clients and work with our associates and entrepreneurial client base. 
Related | Power BI: How Isosceles and iFD are helping leadership teams visualise management information 
The event began with a brief introduction to the evening's agenda by iFD Relationship Manager Sam Akhtar and continued with in-depth presentations focused on the tech-enabled FD by Isosceles CEO Mike O'Connell and Isosceles Head of Technology James Walsh. 
Crucially, attendees also had the opportunity to interact and engage with several members of the iFD and Isosceles team in intimate breakout room sessions.  
If you like what you see on our website and social media channels, you might want to become an iFD. 
Interested in learning more?
If you would like to know more about becoming an iFD or our free virtual events, please contact the iFD Relationship Manager Sam Akhtar on sakhtar@ifteam.co.uk or +44 7340 178316. 
 We look forward to welcoming you to our next event. 
Keep up to date with Isosceles and iFD news by following us on social media: 
iFD Twitter: @ifdfds
Isosceles Finance Twitter: @isoscelesfin
iFD LinkedIn: iFD
Isosceles Finance LinkedIn: Isosceles Finance