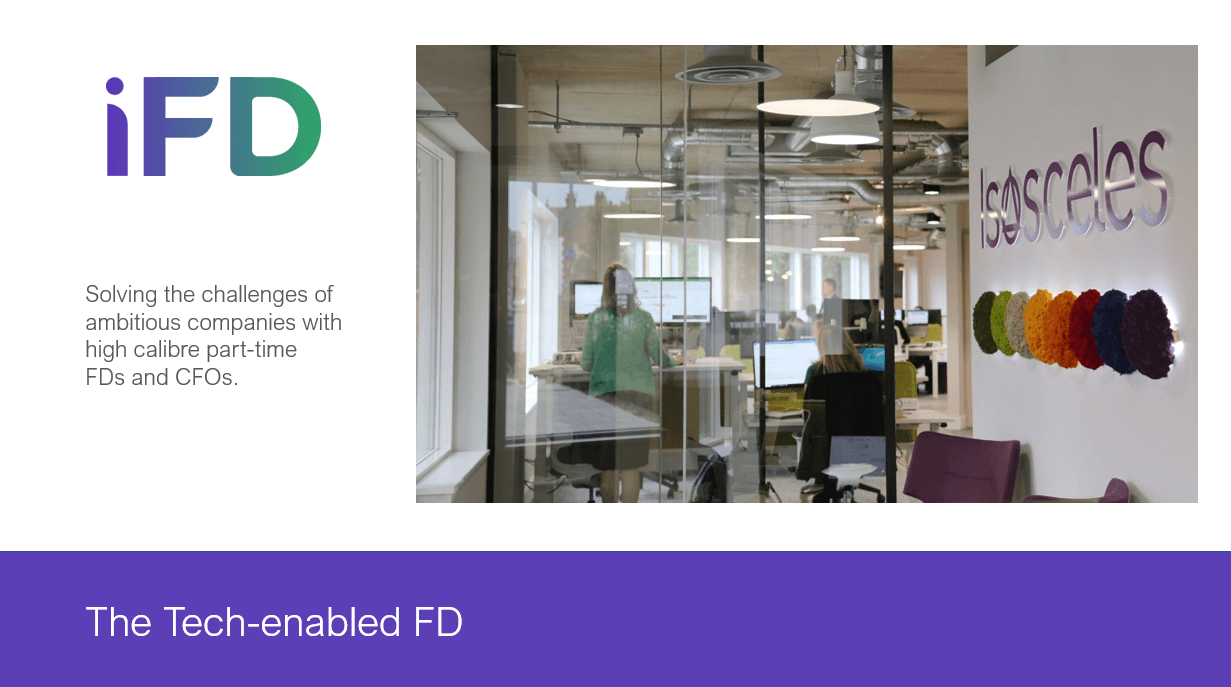 Isosceles Finance is pleased to announce it will cordially welcome its community of finance directors (FDs) to a third virtual event on Thursday 25 March 2021 at 6 pm; The tech-enabled FD.
The latest event in the iFD calendar will focus on the tools available to the tech-enabled FD and Isosceles' latest technology offering, ireport.
"The modern FD needs to be on top of today's business whilst also understanding what tomorrow's business may look like."
Isosceles Finance CEO Mike O'Connell says: "Following the launch of iFD at the end of 2020 and the gradual reopening of the economy in England, we hope to continue to showcase our pre-eminence in the FD market by hosting our third virtual event focused on the tech-enabled FD."
Acknowledging the application of technology as an important enabler for the modern finance director, Mike adds: "The modern FD needs to be on top of today's business whilst also understanding what tomorrow's business may look like."
"Isosceles has used Microsoft Power internally to evaluate performance and externally across our broad entrepreneurial client base."
"Since our inception, we have provided part-time FD services as a core component of our outsourced accounting solution to a range of entrepreneurial businesses. Our significant contribution to their growth has generated many notable success stories."
Isosceles will present information about how it deploys Microsoft Power BI solutions across the business and its entrepreneurial client base at the 25 March event.
Related article | Power BI: How Isosceles and iFD are helping leadership teams visualise management information
Attendees are also invited to share their own experiences of using software applications, such as Microsoft Power BI, with like-minded industry professionals in smaller breakout room sessions.
Why join the iFD Community?
The iFD Community is a network of highly effective portfolio FDs and CFOs that support a portfolio of high-growth entrepreneurial clients.
Joining the iFD Community offers the opportunity to:
Network with other industry professionals.
Share experiences with like-minded portfolio FDs.
Access the knowledge and skills of experienced and effective accounting and finance professionals at all levels within the finance function.
Gain exposure to other industries and sectors, new financial challenges, and new client opportunities.
You do not have to join our community as an iFD employee or an iFD associate, iFD friends are welcome too.
iFD also provides its community with updates and training to enhance knowledge and contribute to your professional development.
We are actively looking to recruit portfolio finance directors to join our team of high-calibre associates.
Related article | iFD hosts second virtual iFD Community event
Why is this virtual event DIFFERENT?
Building on our experience hosting virtual events, our latest edition of the popular series is an opportunity for portfolio FDs in attendance to learn more about iFD and Isosceles Finance, and in particular its new offering, ireport, and the tools available to the tech-enabled FD.
Attendees can also interact with several Account Directors and other members of staff from across Isosceles' divisions in breakout sessions to discover how we deploy Microsoft Power BI solutions and support and work with our associates and entrepreneurial client base.
If, after the event, you would like to know more about becoming an iFD, we look forward to discussing this with you in greater depth.
If you would like to know more about the event and register your interest, please contact the iFD Relationship Manager Sam Akhtar on sakhtar@ifteam.co.uk or +44 7340 178316.
We look forward to welcoming you to the event.
Keep up to date with Isosceles and iFD news by following us:
iFD Twitter: @ifdfds
Isosceles Finance Twitter: @isoscelesfin
iFD LinkedIn: iFD
Isosceles Finance LinkedIn: Isosceles Finance